KOREAN TRADITIONAL ARCHITECTURE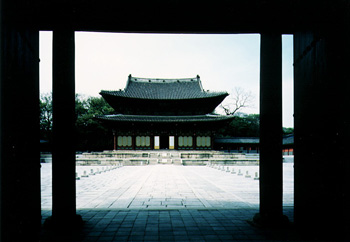 Injungjyun at Chandyukgung("gung" means Kigndom place)

A BREAF HISTORY OF KOREAN ARCHITECTURE
Introduction
Ancient Architecture (Neolithic~7C.)
United Silla Architecture (7C.~10C.)
Koryo Architecture (10C.~14C.)
Choson Architecture (14C.~19C.)

종묘 Chong Myo Ancestry Shrine of the Chosun Dinasty
사직과 더불어 왕조시대 국가를 상징하였고, 정신세계 질서를 지배한 예제의 가장 으뜸인 종묘에 대한 사이트이다. 종묘에 대한 개략적인 개관인 종묘안내와 종묘권역, 정전부속건물, 연녕전 부속건물 등 3부분으로 나누어 사진과 함께 자세히 설명한 종묘건축과 종묘대제, 갤러리 등이 있다.(고성룡의 인터넷 세상, 건축문화 9811)
It can be called a Korean Parthenon Temple if compared to the Western Architecture and symbolizes the nation, Chosun Dinasty, together with the Kingdoms governing the order of spiritual world of that times....

아시아의 전통 건축 Asian Tradition in Architecture
한남대의 한필원 교수가 제공하는 아시아의 전통건축에 대한 사이트로서 오늘날 디자인 발전을 위한 전통에 대한 재해석과 한국, 일본, 중국 등 동북아시아의 전통주거에 대한 내용을 위주로 한다.
Site about Asian traditional architecture provided by prof.Phil-won Han in Hannam Univ., which consists of two main subjects:[1] the re-interpretation of tradition for the purpose of the development of today's design and [2] traditional dwellings in Korea, Japan and China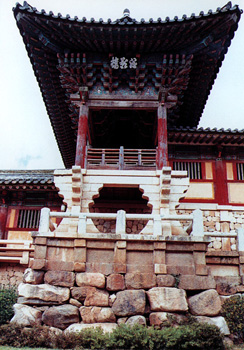 Bulguksa at Kyungju("sa" means temple)
오늘날 남아 있는 우리나라 유적, 유물 중 다른 문화재에 비해 단연 많은 숫자를 차지하는 석조물과 인도에서 석가여래의 신골을 모시기 위한 무덤으로 만들어졌으나, 그 후 차차 변화되어 불교의 거룩한 가르침에 대한 표시와 그 믿음을 이 세상에 널리 퍼뜨리기 위한 기념물로 만들어지게 된 탑에 대한 내용들을 자세하게 소개하고 있으며, 그 외에도 노주, 당간지주, 석비와 감자와 옥수수 냄새를 풍기는 강원도의 문화유적도 가볼 수 있다.

유네스코 세계유산 등록 기념 사진전 Photo Gallary
1996.6.24 ~ 1969.7.5 (한국문화주간)에 파리 유네스코 본부 1층 Segur Hall에서 열렸으며, 해인사 팔만대장경 및 판고/ 종묘와 종묘제례/ 석굴암/ 불국사와 한라산/ 설악산을 볼 수 있다.
Photo Gallary congraturating the registeration of some Korean architectures as UNESCO world great remains
Syukgulam at Kyungju

전통기와 Kiwa : the Korean traditional rooftiles

수원성 The Suwonsung : the Castle in Suwon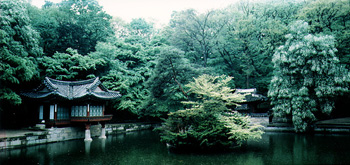 Biwon at Chandyukgung("gung" means Kigndom place)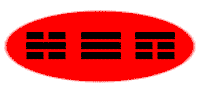 풍수 Feng Shui
We do not subscribe to superstitious, religious, or other "popularized" versions of Feng Shui. Chinese Geomancy (Feng Shui) is based on repeatable calculations with prescribed solutions being based solely on the five elements and by creating beautiful, warm, and supportive environments.
Feng Shui, (also pronounced "Feng Shway" or "Fung Shui" or Fung Shuway," depending if you are Mandarin, Cantonese, or American) literally means wind and water. It is rapidly becoming a standard practice for creating the ideal and balanced environment in which to live and work.
Who you work with is often just as important as the solutions. Learn about some of our clients, and why they chose 168 Feng Shui Advisors to assist them in creating supportive living and working environments.

조선궁궐 The Kingdom of the Chonsun Dinasty
조선궁궐에 대한 개괄과 경복궁, 창덕궁, 창경궁에 대한 사진과 자료를 제공한다. 그림이 많아서인지 좀 늦게 뜬다.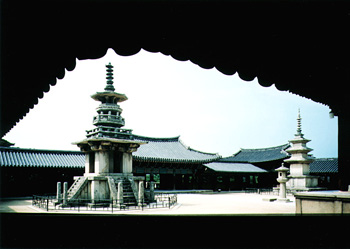 Dabotap and Syukgatap at Bulguksa("sa" means temple)